A BIOGRAPHY OF MASTER PHONG THONG DANG
Aikido: 7th Dan
Judo: 5th Dan
Taekwondo: 6th Dan
Han Bai Duong
Vietnamese Shaolin Kung-fu
The Early Years
Sensei Dang Thong Phong was born in 1935. His career in Martial Arts started in 1950, when he entered the Han Bai Academy of Martial Arts, Saigon, Vietnam, to begin training in Han Bai Duong Vietnamese Shaolin Kung-fu and Judo. He continued his training in Judo and in Aikido in 1958 at the Vietnam Aikido & Judo Association, Saigon, Vietnam. In 1963 he started training in Taekwondo at the Thu-Duc Military Academy of Martial Arts and Physical Education, Thu-Duc, Vietnam.
Accomplishments During the War
In 1967 Lieutenant General Choi Hong Hee, the President of International Taekwondo Federation (ITF) invited Sensei Phong to come to Seoul, the capital of South Korea, to visit local Martial Arts schools and study about the way his Federation was organized. Also in 1967, Sensei Phong traveled to Aikikai World Headquarter, Tokyo, Japan for advanced training and obtained his 3rd degree in Aikido. Upon returning to Vietnam, he was promoted by the government of the Rebuplic of Vietnam (South Vietnam) to the post of Technical Director of the Thu-Duc Military Academy of Martial Arts and Physical Education.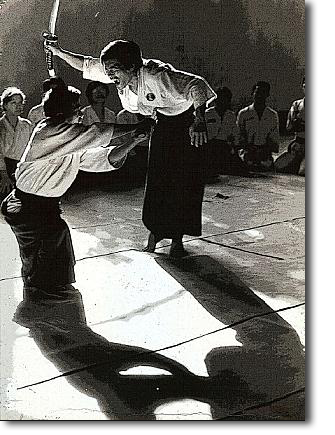 In 1968, upon receiving Credentials from O-Sensei Morihei Ueshiba that authorized Sensei Phong to organize and expand Aikido training in the entire land of Vietnam in the spirit of Love and Peace, Sensei Phong founded the Aikido Tenshinkai Federation, of which he retained the position of President until today. The name Tenshinkai was given to the Vietnamese branch of Aikido in Vietnam in this event by O-Sensei Morihei Ueshiba. Ten means Heaven, Shin means Heart, and Kai means Organization. Putting them together gives Tenshinkai the meaning of the Organization of Heavenly Hearts.
In 1969, Sensei Phong led the first team of Vietnamese Taekwondo athletes ever to compete in the Southeast Asian Friendship Games in Hong Kong. Subsequently he was promoted to the rank of Technical Director of the Republic of Vietnam's Military Martial Arts Federation.
In 1970, Sensei Phong started a program to teach Aikido at various Military Academies and in several fighting units of the Rebuplic of Vietnam's Arm Forces. He also introduced Aikido to four Model High Schools in Saigon, Vietnam in the year of 1972. From 1971 to 1973 he held the post of Secretary General for both Vietnam Judo Federation and Vietnam Taekwondo Federation.
There is a will, There is a way
In April 1975, South Vietnam fell to the hands of Communists. Being an Officer of the Rebuplic of Vietnam's Armed Forces, he was taken prisoner and sent to successive Re-education camps, a name for Communist prisons. After three years in the camps, he twice escaped and while seeking for ways to leave the country, he was re-arrested both times. He spent a total of seven and a half years in Communist prisons.
After his release from prisons, Sensei Phong attempted to escape from Vietnam for many times but achieved nothing but failures. In one attempt, when he tried to leave the country by boat, he was caught and spent the next eight months in jailed. In another attempt, he tried to leave Vietnam by crossing Cambodia to reach Thailand, but was captured by Communist soldiers in Cambodia. He endured vicious beatings, and only was released latter because he pretended he was a businessman on travel. He was sent back to Vietnam and spent nearly three years in prison. In 1985, after seventeen failed attempts, he successfully and finally escaped out of Vietnam on his eighteenth try. Sensei Phong set foot on American soil on February 26, 1986.
On the Mission of Love and Peace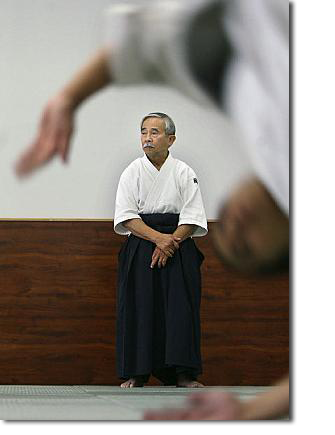 In America, never forget the mission that O-Sensei Morihei Ueshiba entrusted upon him, Sensei Phong worked hard to re-establish the present of Tenshinkai Aikido Federation. In 1988, he founded Westminster Aikikai, Tenshinkai Headquarters, which is located at 8536 Westminster Boulevard, City of Westminster, Orange County, California. On the 24th of October 1991, Aikido Foundation, Aikido World Headquarter at Tokyo, Japan, formally recognized International Tenshinkai Aikido Federation as a Federation with sanctioned activities in the United States. In the same year, Sensei Phong was invited to attend the 60th Anniversary of the founding of Aikido in Tokyo, Japan.
Besides his teaching at Westminster Aikikai, Sensei Phong also hold many seminars at the Dojo and various locations which included Oakland, CA, Texas, Florida, France, Holland and Vietnam. In 1994, he taught at several International Seminars in France and in Holland for three weeks. Also in the same year, Sensei Phong was honored at by the PRIDE OF THE VIETNAMESE Organization as being among those who, for nearly a half century, have dedicated their talents and hard work to he betterment of society, thus bringing glory to the country of Vietnam and its people.
On February 9, 1997, during the Ceremony to celebrate the 29th Anniversary of Tenshinkai Aikido Federation at the Westminster Aikikai Dojo, California, Shihan (Aikido Professor) Masatake Fujita, General Secretary of the Aikido Foundation, Aikido World Headquarter from Tokyo, Japan, attended and represented Doshu Kisshomaru Ueshiba to promote Sensei Dang Thong Phong to 6th degree.
From June 10 to 21, 1997, on the invitation of several Aikido Dojos in France, Sensei Phong taught at an International Aikido Seminar, which was attended by delegates from several European countries. In recognition of his contribution to International Martial Arts, Sensei Phong was inducted into the World Martial Arts Organization's Hall of Fame in Costa Mesa, California in July 1997.
Besides Aikido, Sensei Phong was recently given the responsibility to rebuild the Han Bai Duong Vietnamese Shaolin Kung-fu after 36 years long of discontinued activities. Under his guidance and instruction, the first class of Han Bai Duong Shaolin started in September 1997.