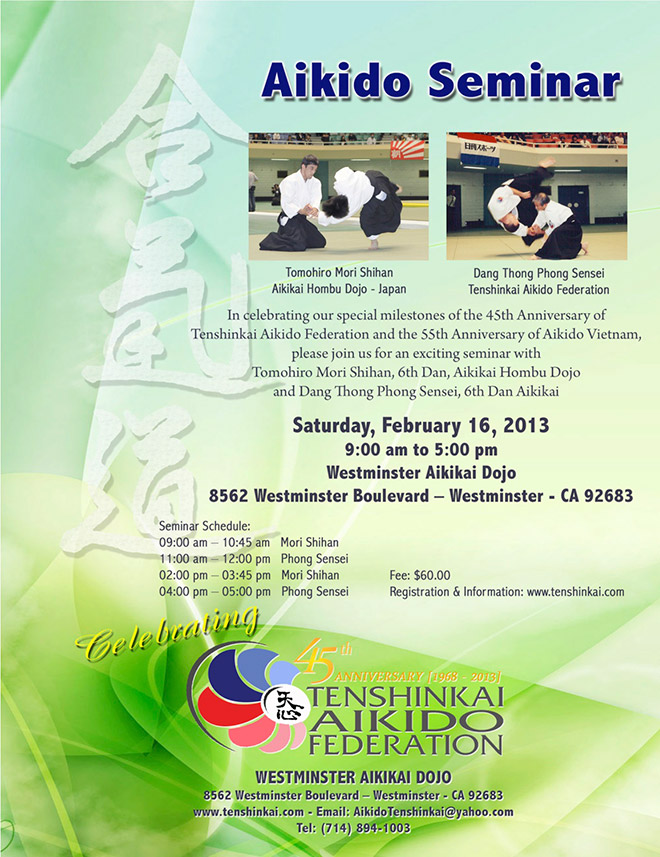 Click here to download the event registration and waiver form.


---
Commemoration of the 17th Anniversary
of the Passing of Sensei Dang Thong Tri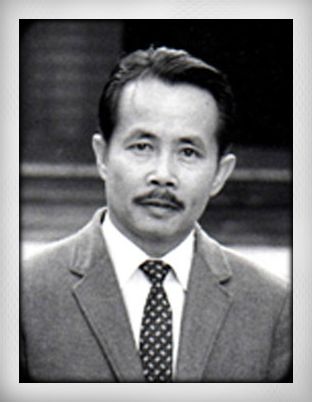 Dang Thong Tri
1928 - 1995



As you may have already known, although O-sensei Morihei Ueshiba had founded the art of Aikido in the 1920-1930's in Japan, it took another 20 years or more before that wonderful martial art made its way to Vietnam. The person responsible for the introduction of Aikido to the general public of Vietnam was none other than Master Dang Thong Tri, when he returned from France in 1958. Master Dang Thong Tri was also the pioneer who took the first steps to promote that art there by launching several Aikido Dojos and the creation of the Vietnam Aiki-Judo association in 1960. Afterwards, although Master Dang Thong Tri went and resettled in the US in 1964, but that 6-year time-frame (1958-1964) had been enough for him to successfully sow Aikido seeds in VN through the formation of talented and virtuous instructors who would carry on his work. Master Tri passed away in Sacramento, California, USA, on 12 October, 1995.

It should be noted here that "Tenshinkai" was the name O-sensei Morihei Ueshiba himself had bestowed upon the Vietnam branch of Aikido when Master Tri was still teaching there. Today there are several Dojos throughout the world where the Head-instructor either is a former student of Master Tri or a student of one of Master Tri's students. Therefore, it would be safe to say that Master Tri should be considered meritorious not just towards the country of Viet Nam and its people, but also towards anyone who once took or are taking lessons from Tenshinkai-affiliated schools or instructors. Hence, honoring and commemorating Master Tri is something that not only should be done, but needs to be done. This coming Sunday, 14 October, 2012, we at WestminsterAikikai will have an event commemorating Master Dang Thong Tri. We encourage all Tenshinkai students from everywhere to come and attend this event. As for all other faraway Dojos with Tenshinkai affiliation, we encourage you to set aside a few minutes on that same day to remember the person who may be considered the Founder of Tenshinkai and Vietnam Aikido.


---

Tenshinkai Aikido Federation cordially invites members, parents, and friends to join us in commemorating the 17th anniversary of the passing of Sensei Dang Thong Tri, who pioneered the establishment of the art of Aikido in Vietnam. The event will be held on Sunday, October 14th, 2012, at 10 am at Westminster Aikikai Dojo, Westminster, California.

Upon returning to Vietnam in 1958 after many years of studying and training abroad in France, Sensei Dang Thong Tri began to introduce Aikido and established the Vietnam Aikido and Judo Association. By 1960, Sensei Tri, with the support of Sensei Mutsuro Nakazono from Japan, was well under way to train the very first group of Aikido instructors of the country. In 1964, Sensei Tri went to California and entrusted the management and development of the Association to Sensei Dang Thong Phong. The Aikido seed that Sensei Tri planted has grown into a well-established Tenshinkai Aikido Federation that we know today. Sensei Dang Thong Tri passed away on October 12th, 1995, in Sacramento. Sensei Tri's legacy undeniably showed that he was the true pioneer and founder of the Aikido movement in Vietnam.

In memory of Sensei Dang Thong Tri, we take this moment to reflect with gratitude and pride of our foundation. We hope that members of Tenshinkai are inspired by Sensei Tri's spirit and will continue to train diligently in the art of Aikido to become model members of the community. We look forward to see all of you at this special event. Your presence is an encouragement and support to all members of the Tenshinkai Aikido Federation.


Date:
Sunday October 14th, 2012, from 10AM to noon.
Location:
Westminster Aikikai Dojo, Westminster, CA


Program:

10:00 AM - 10:15 AM
Moment of reflection in memory of Sensei Dang Thong Tri
10:15 AM - 10:30 AM
Kyu Promotion
10:30 AM - 11:00 AM
Shodan (1st Degree Black Belt) Promotion
11:00 AM - 11:45 AM
Aikido Demo by students, new shodans and instructors
12:00 PM - 1:30 PM
Potluck Lunch for all guests, instructors & students