1995 European Friendship Tour
Friends of the Headquarters, Hello.
I am going to give a quick report on Sensei Phong's sojourn in France. With my wife, President of Departmental Committee of Corrèze, which is the base of Sensei's trip to our French Federation, we came to Paris to pick him up on Thursday, June 8, 1995. We were so happy to see sensei and Andrew. After the warm welcome, we drove back right away to Corrèze and we arrived at 5:00pm after one stop at Orleans for lunch. The same evening, we visited the Sakura Dojo, as a good Uke, had the chance to test the Tatami. The Sakura is small, but its heart is big. On Friday, June 9, after the tour of the small town Tulle and the museum next to my workplace, we started practicing in the evening and could appreciate Sensei's techniques and Andrew's smoothness. Sensei met again with Bruno and Sébastien, who had both been with me in Westminster last year, and I had the opportunity to introduce Thérèse Clément, a chief instructor of Sandan rank of Verdun. We were 24-25 all together on the Tatami and enjoyed very much practicing seriously.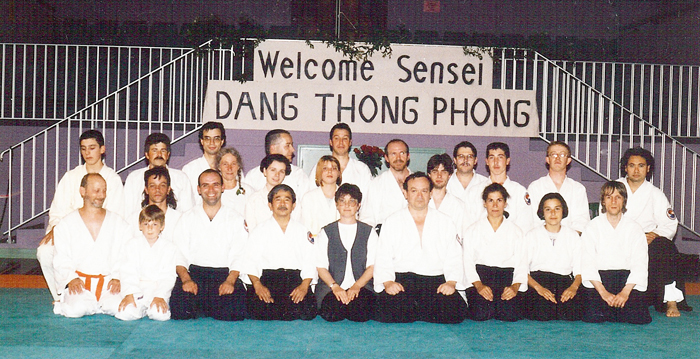 On Saturday, June 10, and Sunday June 11, we had our international seminar with the presence of members of the national and local authorities. We noted some names like the French Federation of Aikido and Budo (FFAB), the historic Aikido group of André Nocquet (GHAAN), and the French Federation of Aikido and Martial Arts (FFAAA). Many curious participants came to try Tenshinkai techniques. That was the first time people found a Sensei who was not from Japan. That Saturday, after 5 hours of practice in 2 sessions, the committee invited everybody to the dancing party in the honor of Sensei and Andrew. As we say in France, Sensei makes a good tabaco with all the guests for his graciousness, courtesy, and humbleness of a real Sensei.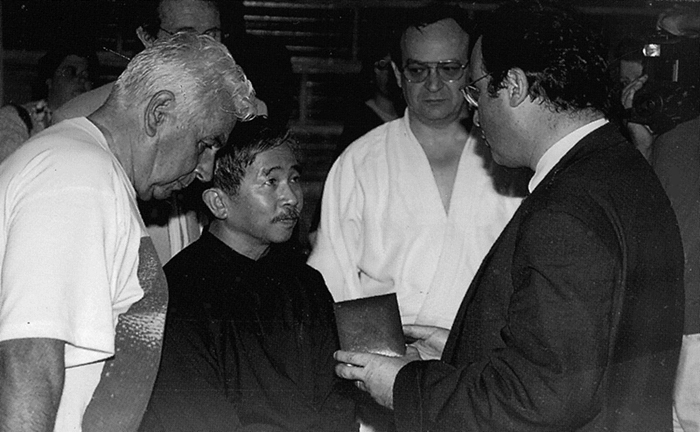 On Sunday morning, after the dancing night, we practiced with dynamism, and Sensei gave an excellent impression. Everyone attending the seminar was hoping to continue in the afternoon; they found the seminar too short. People who met Sensei for the first time discovered a person with a very strong technique. Those who had been with me in Westminster in 1994 found Sensei to be in very good shape. Sensei Phong Dang gave us a bright, stunning demonstration which was followed by one of the highest ranking Aikido from Limousin, Jean Louise Dupuy, 6th Dan, Vice President of the Aikido grading committee. All participants at the seminar, especially those who had traveled more than 1000 km to come to Laguenne/Tulle appreciated the event and were certain to come back again.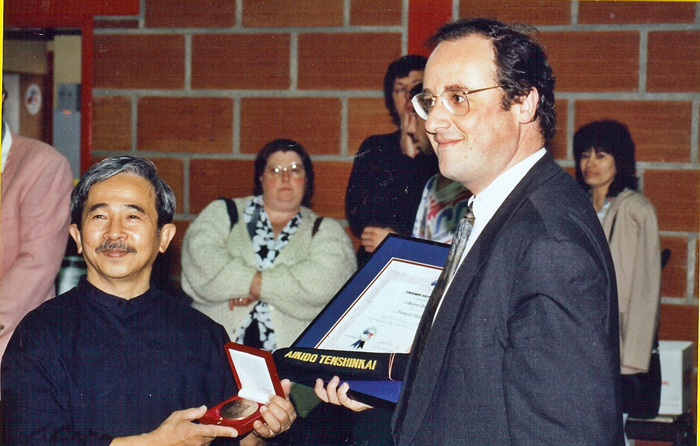 At the closing ceremony, Sensei Phong Dang received habitual gifts and above all, the medallion of the city of Tulle from Mr. Francois Hollande, a very important political figure of our country. Michel Gillet, President of the region of Lyons, national technical animator and administrator of FFAB, presented to Sensei Phong Dang personally from Tamura Shihan a book dedicated to him. Before that, Master Nocquet had given me a book and a letter to handle to Sensei Phong Dang. Then, Monday and Tuesday were days for sightseeing and cultural events with French meals. Each evening, we enjoyed Sensei's technique at Sakura Dojo with 23 to 26 fanatical students, some form Verdun, Montmedy, and Linoges.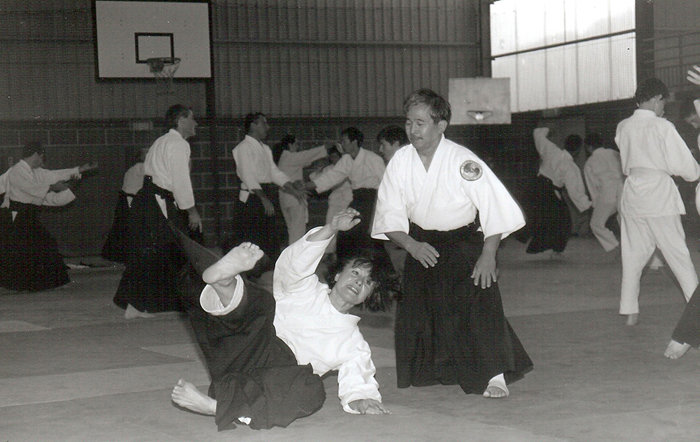 I hope that Sensei enjoyed his stay in Corrèze, perfectly scheduled by my wife, Myriam, whom I had to thank for her excellent work. It was with a special willingness, a great efficiency and always with a smile, that she had so well orchestrated the whole event, so important to the success of the seminar. I also expressed my thanks to everyone who behind the scenes had helped me welcome Sensei with all the respect that he deserved. I hope that I have a chance to do it again every 2 years and welcome everyone with Sensei. I think of my friends Quang, Hai, Vu Robert, Tom and others…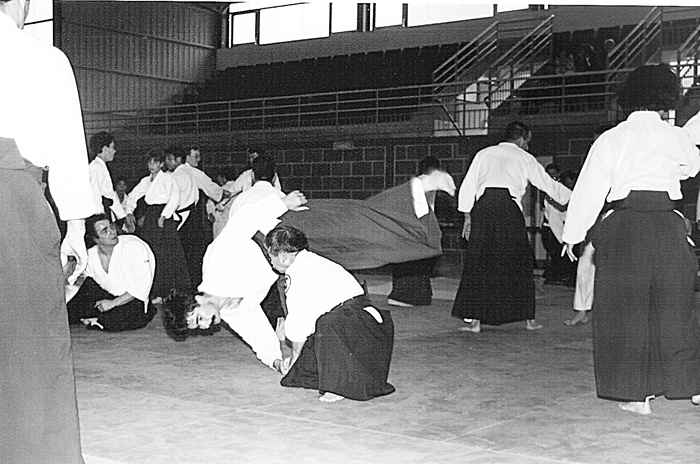 Here is the end of "Corrèze Chapter". On Wednesday, June 14, we went back to Montmedy where Sensei saw again Jean Michel Wiesener and practiced right after the car stopped. Then, on Thursday, June 15, it was Verdun, capital of Peace. The most decorated city of the world opened the door of its Dojo to us. It was there that I had introduced Aikido in 1970 when I was in the military service. During that time, I practiced Judo, Karate, and Aikido had only 45 minutes at the end of the workout. Now, Thérèse Clément is the third chief instructor succeeding me in Verdun and she managed it very well. I am so glad and proud that her Dojo accepts Aikido as an independent martial art. There, too, Sensei Phong Dang, with his special technique, has more fans and guided them to practice together with a new spirit. The Dojo of Verdun is the second Dojo to join Tenshinkai. At the same time, we guided Sensei Phong Dang and Andrew to the glorious field of war of Verdun, the bunkers, the trenches and tunnels where many of our old brothers had lost their lives for the country in order to stop the enemy from crossing. Back to Montmedy on Friday, June 16, we also had a good workout with Sensei.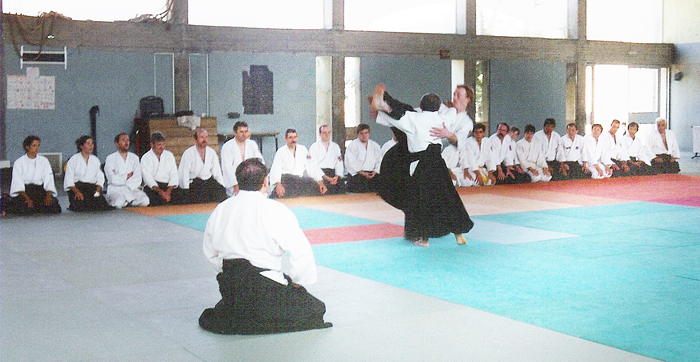 On Saturday, June17, and Sunday, June 18, it was the second international seminar of Sensei. On Saturday, it was not crowded, but on Sunday, many people joined. Like at Corrèze, there were election in town and different exams for Dan advancement, so a lot of people could not come to the seminar. For others, the fact that Aikido was to be taught by somebody not Japanese was something special. Some would regret that they did not attend the seminar. We had that Saturday afternoon 5 hours of continuous practice, 2 hours of practice with a small break of 10 minutes, then 3 hours with 10 minutes breaks each hour. Sensei, all the time, was remarkable.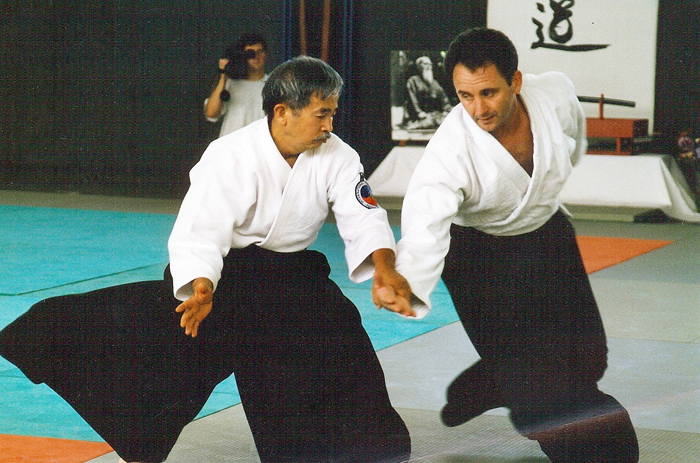 The second Dojo to receive the certificate of friendship was the dojo of Montmedy, with Jean Michel Wiesener. That means the Sakura Dojo is the Headquarters dojo of the new European Tenshinkai Federation, with 3 new Dojo. This is only the beginning and we hope to give to Sensei Phong Dang many more cities for the development of our ART. The evening, we had a barbecue the French way, with some Belges, friends of an Aikido fan. The police had to come because of some strange noise: Tam-Tam from Africa or Indians in war—this is a little note. That night, we said goodbye to my friends from the East of France, my job needed me at Corrèze, and I had to go back hoping to see each other again the next time. Some hope to come to practice with us at Corrèze during the summer. We gladly accept them. That's Aikido. To open the Dojo door to all.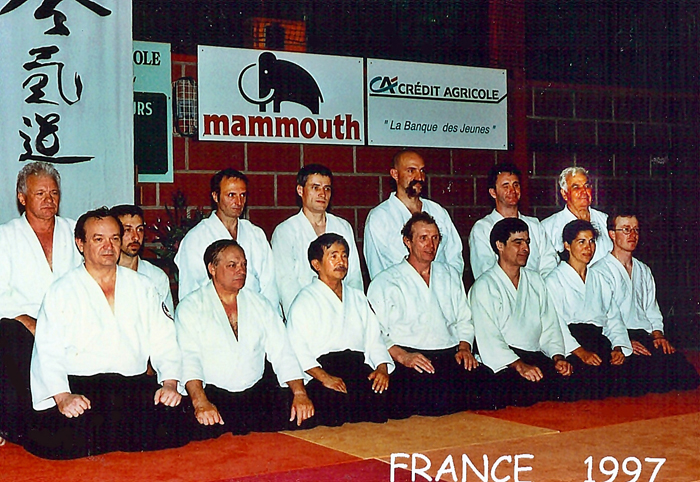 Monday morning, the day Sensei went back to the U.S., my wife and I, we knew that we could not see him before '96 or 97'. These 10 days spending with him, surpassing language barriers and little things of our country, were an honor for my wife and me that we deeply felt in our hearts. We sadly said goodbye with a smile on our face.
Sharing Aikido with Sensei Phong Dang who had devoted his whole life to the ART is the wish of all my European friends. I am proud that by coming to Westminster with 3 of my friends, I brought a new branch of Tenshinkai Aikido to Europe. With 10 days, we contributed little to Aikido, but with these 10 days, we learned a lot, more than in10 years. The techniques were universal. There was the human heart to reach out to develop HARMONY. Sensei Phong Dang had done it
Then Sensei went to Holland, no doubt he would conquer our friends from the Netherlands! Friends from Tenshinkai, you are very lucky. Sensei Phong Dang built a bridge over two continents as hoped by O'Sensei. It is our turn to enjoy and develop the ART.
Best greetings from your friend from France,
PATRICK DIMAYUGA
Saint Pardoux
June 25, 1995
<< Back to Articles